On Thursday, May 19, the Atiquipa technified forest nursery was inaugurated, thus initiating various reforestation actions programmed for this area such as the official launching of the forest zoning process, the recognition process of heritage trees in the district of Atiquipa, the progress of studies of the types of land use, as well as the delivery of the resolution for the renewal of the recognition of the Private Conservation Area – ACP Lomas de Atiquipa.
Atiquipa is distinguished by the hills, which houses natural and cultural heritage, and is a rich and diverse space in nature and landscapes. Atiquipa is located in the province of Caravelí, in the Arequipa region. 
Currently, the GEF Agrobiodiversity Project, which is executed by Minam with support from FAO and Profonanpe, is developing actions for the restoration of these hills and the development of participatory instruments for community management, ACP management and district and communal management that in close coordination with the community, the Municipality of Atiquipa and involved institutions such as SERFOR, ARMA of the regional government of Arequipa, among others, has planned the installation of 100 hectares for this year. On the other hand, given the importance of prioritizing water collection, a fog-catching system is being implemented on Lloque hill, and the water collected will be channeled to reservoirs for agricultural use and human consumption.
In this context and in compliance with the project's results framework, actions for the conservation and restoration of agrobiodiversity and its landscapes have been programmed for Atiquipa in coordination with the rural community of Atiquipa-Jaqui and Yauca, the District Municipality of Atiquipa, the Regional Environmental Authority (ARMA) of the Regional Government of Arequipa, the SERFOR's Directorate of Cadastre, Zoning and Management, and the Technical Forestry and Wildlife Administration of Arequipa.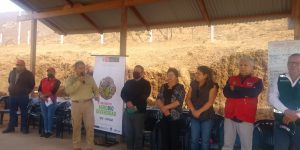 District authorities inaugurate the modernized forest nursery of Atiquipa.