June 21, 2022.– National and international experts in environmental remediation, participated in the discussion: How to remediate sites contaminated by hydrocarbons in the Peruvian Amazon?, organized in the city of Iquitos on June 17, at the initiative of the Ministry of the Environment.
During the event, different perspectives were shared on the solution to the underlying problem, the negative impacts that for more than 40 years have been generated by hydrocarbon activities in the basins of the Tigre, Pastaza, Corrientes and Marañón rivers, the most important oil extraction area in the Loreto region.  
The specialists, after visiting the impacted areas, agreed that one of the most important challenges to be addressed is access to these places, which is often difficult due to the rugged geography or the absence of transportation routes.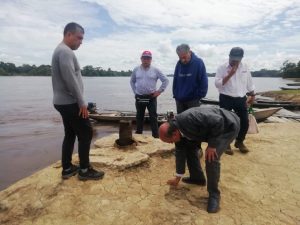 Experts visiting the remediation area.
"After this visit to the Peruvian Amazon, we can say that the most important challenge is the logistics needed to reach and remediate a site impacted by hydrocarbons. Oil companies must ensure that reaching these remote areas should be accessible during and after oil production," noted Faisal Kahn, a professor at Texas A&M University
Jorge Seminario, professor of Chemical Engineering at the same university, is of the same opinion and pointed out that "it is cheaper to prevent than to remedy. In this sense, the operating companies should be required to leave all the logistics and infrastructure deployed to carry out their operations to the country. If it has been accessible to them, then it should also be accessible to the country. This should be an obligation. With that in place, it would be easier to remedy."
This event was held as part of the actions of the Contingency Fund for Environmental Remediation, which is administered by Profonanpe's Environmental Liabilities Program, the largest private environmental fund in the country, and provided an opportunity to learn about the different approaches to the environmental problems of the Peruvian Amazon, with the expectation that they may form part of the planning strategies of the sector's authorities in the short term.
About Profonanpe:
Profonanpe has established itself as the most important private environmental fund in Peru. Since its foundation, it has been characterized as an institution specialized in creating, developing and implementing innovative processes in the management and administration of funds, and the participatory management and involvement of private enterprise, for the conservation of biodiversity, mitigation and adaptation to climate change. Also, since 2020, through its Environmental Liabilities program, it assumed the Technical, Administrative and Financial secretariat of the Contingency Fund for Environmental Remediation.