The wait is over! 5 Peruvian influencers were selected to be part of the new season Environmental Reporters of Peru (RAP), an initiative promoted by Profonanpe, the Peruvian private environmental fund. These young people, who come from the regions of Apurímac, San Martín and Lima, will share their experiences with initiatives that promote environmental sustainability and nature conservation.
Meet them:
Natalia Barrera, publicist, model, host of the series "Descoloniza" by AJ+ and creator of the anti-racist audiovisual project "Una Chica Afroperuana". She lives in the city of Lima, started as an influencer with the purpose of showing the life of the Afro-Peruvian community from a new perspective and she is currently one of the participants of the RAP project. Natalia wants to meet and learn from people who are leading diverse projects in Peru. We will soon know her stories in RAP! Follow her on Instagram and Tik Tok.
The Traveleras team is formed by Sheyla and Nelyda, communicators by profession and content creators through their brand "Traveleras". Their story begins while they were studying communications, a time when they made tourist reports with the purpose of getting to know more places in Peru. This experience made them see that it was a job opportunity. Their project was born with the purpose of making remote places in Peru and the Quechua language visible; in fact, they are the first Peruvian youtubers to spread this language in their travels. Follow them on Instagram and Tik Tok.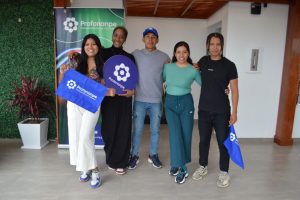 Natalia Barrera, the Traveleras, Juan Víctor Sicha and Jhon Gleen at the first RAP meeting.
Juan Victor Sicha, or Juanpi, for his friends, is studying Tourism and Hotel Management. He blogs about life in the countryside, nature and the revaluation of Andean customs. He grew up with his grandparents and mother in the district of "AnccoHuallo-Uripa", in the province of Chincheros, Apurimac. From a very young age, Juan was surrounded by nature, and thanks to his grandfather's teachings he learned to value and recognize the ancestral knowledge that the land offered him. Currently, he shares this learning through the videos he uploads to his social networks, where he shows how he obtains and prepares food from the fields. Juan enjoys telling stories, especially those related to life in the countryside. He tells us that together with RAP he will have the opportunity to be an agent of change "from the reality in which I live I will show the problem and the solution because the change is in each one of us and it is time to become aware". Follow him on Instagram and Tik Tok.
Jhon Gleen, entrepreneur, podcaster and speaker from the district of Moyobamba, San Martin. From a very young age, she worked to support her household economy. Thanks to his determination and effort, he achieved success with his shoe business Shoes All Day, formed a digital agency and currently documents his work through blogs, podcasts and social networks. Jhon is a creative person with great communication skills. Soon he will tell us more about initiatives that conserve biodiversity near his region. Follow him on Instagram and Tik Tok.
Priscila Peralta, a veterinarian who has been working in the Peruvian Amazon for 10 years. She is dedicated to studying the impact of anthropogenic activities on wildlife health and promotes the application of strategies to prevent the transmission of zoonotic diseases to wildlife, domestic animals and humans. Her love for nature was born when she was a volunteer park ranger for the Protected Natural Areas, specifically in the Manu National Park. Currently, she continues to be involved in different wildlife research and conservation projects. Through her social networks, Priscila tells the experiences of her work in an educational way. Soon we will know more about Priscila as a RAP, she is ready for this new experience and tells us that she hopes to "develop environmental awareness in our society and involve it to participate from their homes indirectly in the conservation of biodiversity through citizen science". Follow her on Instagram and Tik Tok.
The first RAP 2021:
The first season of RAP was launched at the end of 2021, with the participation of Waldir Maqque, from Pisac, Cusco and Gianmarco Moreno, who lives in Ucayali, Loreto. Waldir, a cooking student and farmer, took us to visit the communities located in the district of Lares, Cusco, where we learned about the seed banks, the life of the farmers and taught us about the top 5 corn that can be found in Lares. Today Waldir has already been part of the launching of other campaigns in favor of agrobiodiversity conservation, being the image of the launching of the Kusikuy app.
In the case of Gianmarco, a student of engineering in tropical forest ecology and creator of content on Amazonian culture, he told us more about the Tingo Maria National Park. Gianmarco toured the National Park with the park ranger Don Wilson, showing incredible tourist sites within this PNA.
In the coming months, the new season of the Environmental Reporters of Peru will begin. They will tell us about their experiences visiting various initiatives that promote environmental conservation. The RAP chapters will be launched through Profonanpe's TikTok and Instagram accounts.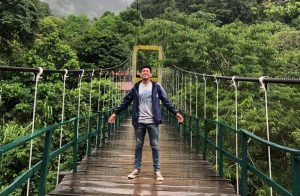 Gianmarco Moreno in the Tingo Maria National Park.