You can now download the Kusikuy application, a platform where Peruvian consumers can discover and purchase a variety of foods that are part of our agrobiodiversity. The application begins its launch with a flat delivery rate of S/.6, to different districts of Metropolitan Lima, and with an offer of products from Cusco, Puno and Apurimac. In the coming months it is planned to extend the scope of delivery to more regions of the country.
Kusikuy showcases native foods grown on the basis of the ancestral knowledge of more than 500 farming families, who managed to rescue from oblivion more than 70 native species in danger of extinction. Among the varieties offered, without intermediaries and under the AGROBIO brand, are black quinoa, mashua, oca, varieties of corn, native potatoes, black chuño, among others.
With this initiative, more than 500 families that conserve our agrobiodiversity will be able to connect with consumers in Peru. In this regard, Anton Williems, CEO of Profonanpe, said that "the insertion of native products in the market will provide sustainability to production and, at the same time, strengthen the commitment of farmers to the conservation of agrobiodiversity." He also highlighted the role of consumers in promoting local consumption of these foods, to bring us closer to our roots and ensure that our heritage continues to endure over time.
The launch of the Kusikuy mobile application was held as part of National Potato Day, and was attended by Flavio Solórzano, renowned chef of the Brand Perú, who together with Yolanda Catacora, protector of native foods from Puno, embodies the essence of Kusikuy: Connecting consumers and farmers.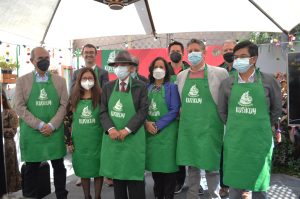 Representatives from Minam, Midagri, FAO, ASPEC and Profonanpe attended the event.
This initiative has been possible thanks to the joint work of various public and private institutions, such as the Ministry of the Environment (MINAM), the Ministry of Agrarian Development and Irrigation (MIDAGRI), the Food and Agriculture Organization of the United Nations (FAO) and Profonanpe, the Peruvian private environmental fund, with financing from the Global Environment Facility through its GEF Agrobiodiversity GIAHS Project in alliance with the Peruvian Association of Consumers and Users (ASPEC).